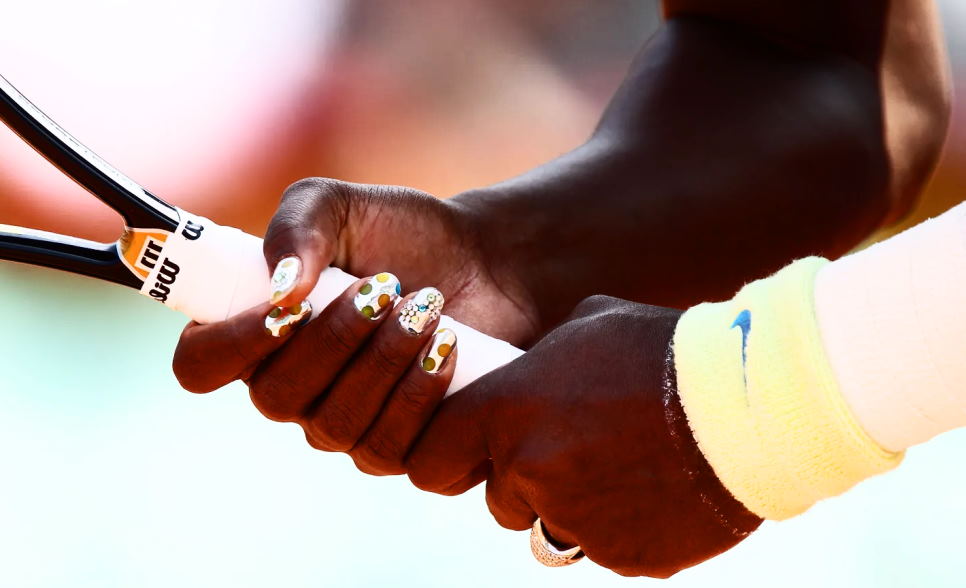 Get Ready for Wimbledon With These Cute Tennis-Inspired Manicures
Are you ready for some tennis? With the Wimbledon Championships starting this month, it's time to get your nails (and racket) match-ready! But why settle for plain and boring manicures when you can add a touch of fun with these cute and colorful tennis-inspired looks? Whether you're a fan of Andy Murray or love watching pros compete on Centre Court this summer, we have adorable manicure ideas to help you feel like part of the Grand Slam crowd. Read on for our top picks, from subtle nail art designs to bright colors and bold patterns.
Discover the hottest new manicure trend: tennis-themed nails
Whether you're a sports fan or love a stylish manicure, this look will have your nails ready to hit the court. The design is simple yet sophisticated, featuring crisp whites and bold colors that mimic the colors found on a tennis court. For an extra bit of flair, add some fun details like tiny racket accents or ball-shaped gems. No matter how you style them, they're sure to make your hands look as sharp as a pro player's backhand. So grab your nail polish and get creative – it's time to serve up something special!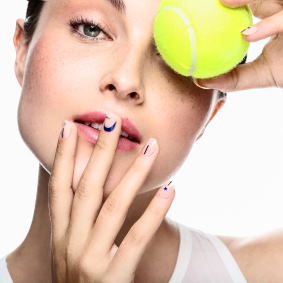 Tennis-themed nails are perfect for any occasion, from date night to hitting the gym. They can look sophisticated and professional when paired with classic whites and subtle blues. Don't be afraid to go all out with hot pinks and bright yellows for a sportier vibe. And when you need something extra special for that big job interview or an upcoming wedding, dress up your nails with sparkly gems or shimmery accents. These chic manicures will make a statement no matter how you wear them!
Plus, they're easy to DIY – all you need is basic nail polish tools and a few colors. Start by painting your nails with the base color of your choice. Then use white strips to create the classic lines found on a tennis court. Finally, finish the look with bold accent colors and fun details. And voila! You've got a unique look that's ready to hit the court.
So lace up your tennis sneakers, grab your nail polishes, and get ready for one stylish manicure. Tennis-themed nails are sure to make everyone take notice – even if you don't play the sport! With this trend, you can show off your fashionable side without compromising on style or sophistication. So why not give it a try? It may just be one of the hottest looks around!
The best tennis-themed manicures to show your love for the sport
This mani includes designs featuring tennis rackets, tennis balls, and court lines. You can add details like the Wimbledon logo or other famous tennis players. For something more subtle, you could do a design using polishes in your favorite team's colors. To complete the look, use white for the nail tips for an extra sporty touch! No matter what you create, a tennis manicure will show off both your love of the game and your creative flair! With these ideas in mind, put on some tunes and get ready to hit the nail salon for your next mani-pedi. Who knows—you might even turn some heads with your sporty style!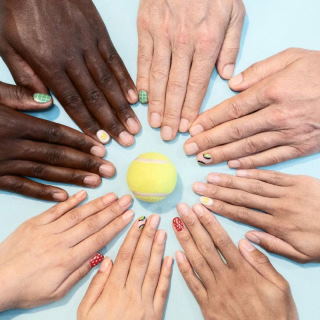 Whether prepping for a big match or rooting for your favorite player, show off your love of tennis with these fun manicure designs. You can choose a classic look like the traditional red and white court lines or add more personal touches with details that represent your favorite players or teams, for something even more unique, use nail art tools to create intricate patterns and shapes such as rackets, balls, and logos. No matter your design, it's sure to make a statement! So go ahead—grab some polish and get creative with your next tennis-themed mani-pedi!
If the sport still inspires you after getting your nails done, why not incorporate other elements into your look? For example, try wearing a headband in either your team's colors or with a logo, or add some of your favorite players' names to a bracelet. You can even repaint your nails in the same theme for an extra pop of color! Whatever you decide to do will show off your commitment to the game and put you in the perfect mood for hitting the court. Good luck!
No matter how you show off your love of tennis, these manicure ideas will surely make any fan happy. So get creative with your designs and let everyone know where your true passions lie! With these tennis-themed manicures, there's no doubt that you'll be sporting an unbeatable look on and off the court. Enjoy!